The latest social media battle is in full swing! Snapchat V's Instagram Stories. In the yellow corner we have Snapchat. In the orange/pink corner we have Instagram. Both really good contenders with various strengths and weaknesses. Instagram have nailed photo content. Snapchat is the clear winner in video content (Check out my recent blog post on Snapchat). Or at least they were- until now! Instagram have allowed users to upload video content for some time now, but recently they made a move to add Instagram stories which means things are about to get nasty!
That sounds familiar I hear you say! The truth is Instagram Stories is practically identical to Snapchat Stories. Instagram CEO Kevin Systrom even admits this himself, acknowledging the fact that "Snapchat deserve all the credit" for the invention of stories. In a recent interview with TechCruch he goes on to say "When you are an innovator, that's awesome. Just like Instagram deserves all the credit for bringing filters to the forefront. This isn't about who invented something. This is about a format, and how you take it to a network and put your own spin on it.". You can read the full interview here where he goes on to say that Instagram Stories is a new take on the "Story" format that was first introduced by Snapchat.
While Snapchat and Instagram argue over who created what first, the real question everyone seems to be asking is should Snapchatters jump ship to Instagram stories? To be honest, I've been struggling with this question myself! Its hard not to get distracted by the latest shiny new social media platform, especially when there's so much hype about it.
The truth is, you don't have to pick a side. You can use both platforms. You can use one platform. You can even use neither and head back to the old reliable Facebook if you want! The real question you need to ask yourself is who are the people using these platforms and are they your target audience? This should be the first question you ask yourself every time a shiny new social media platform becomes popular. The answer to that question should be what drives your marketing activity if you want it to be a success.
By all means keep up to date on what's happening in the social media world but don't get overwhelmed by the amount of choice available. Your aim should be to stay relevant to your target audience, and this means having a social presence on the platforms they choose to use.
To help you decide which platform is best for you, I've created an easy to follow chart which shows you the age demographic of some of the most popular social media platforms (Source Ipsos). At the time of writing this blog, there were no stats available for the Instagram age demographic, however they do say that 23% of the Irish population have an Instagram account.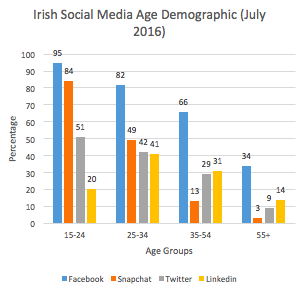 Until next time,
#ShareTheDigitalLove