For those of you who follow my Snapchat (Username 'DiscoverDigital') you'll have seen me snapping from Electric Picnic over the weekend. And what a weekend it was! Electric Picnic isn't just about the music. There's so much to see and do- food demonstrations, talks on mental health, theatre, poetry, dance workshops! The list is endless!
While I slowly recover from the weekend and try to erase the sight of port-a-loos from my memory, I've been reflecting on how well Limerick was represented at this years festival. Anyone that knows me will know how passionate I am about Limerick. I think everyone has a part to play in giving Limerick the future it deserves. I felt so proud to see so many businesses and musicians from the city represent us on one of the biggest stages in the country. Here's a list of some of the Limerick folk I managed to see.
Wellnice Pops
Wellnice Pops is the brainchild of Limerick duo Trín & BJ. These ladies are on a mission to spread the veggie love, one pop at a time! I've been following their story for quite some time now as their business has gone from strength to strength. They make delicious 100% vegetable & fruit juice ice pops which are now being stocked in Super Valu! The girls pitched their colourful truck in the Mindfield area of Electric picnic and their pops went down a treat! You can follow them on Snapchat @ "Wellnicepops".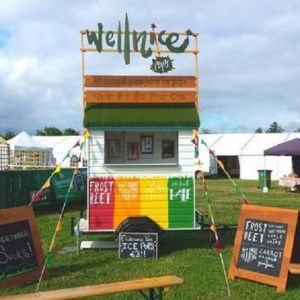 Hermitage Green
The Limerick boys took over the main stage on Saturday and all I can say is WOW!! It was definitely my musical highlight of the entire weekend. The lads have played at the festival in previous years, but this was their first time playing the main stage. There were thousands of people watching them and they really got the crowd going. You could tell how much it meant to them to be on that stage- it was a very special moment to witness. You can follow them on Facebook here .
Canteen
If you've never eaten in Canteen then I'm not sure we can be friends anymore! The cosy eatery located on Mallow Street do the best lunch boxes around. And don't get me started on their coffee! Paul from Canteen was in the Theatre Of Food tent on Sunday where he showed us all how to make Greek eggs. He told the captive audience the best way to poach an egg (although I'm still struggling with that one!!) and handed out some samples which went down a treat with anyone feeling a little delicate after the night before! He also exclusively told us about his expansion plans where Canteen will be moving to a bigger premises. Follow them on Snapchat for the latest news @ "sowearecanteen".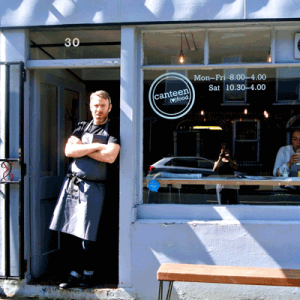 The Rubberbandits
Electric Picnic would not be the same without this pair. I went to see them twice over the weekend- once in the comedy tent (hilarious) and once in the Mindfield area where Blindboy gave a talk on "What the fuck is culture anyway". Blindboy also did a talk on mental health which I missed but you can see a clip of it here. What I love about these two is that they use humour to discuss important issues such as abortion, mental health, equality etc. They've also brought the word "Yurt" back to life which I am eternally grateful for! If you're not following the Rubberbandits on Snapchat you're missing out. Their username is "rubberbandits1".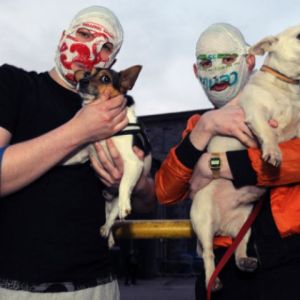 Emma Langford
I stumbled across Emma completely by accident. I was watching Bobby Kerr interview Jamie Heaslip as part of his "Down to Business" show on Newstalk. Bobby likes to have a musician close the show and in walked Emma. I cant believe I haven't heard this girl before. Her voice is unbelievable. I heard Bobby Kerr tell her at the end that she was going to be a star, and I must say, I have to agree with him. You can follow Emma on Facebook here.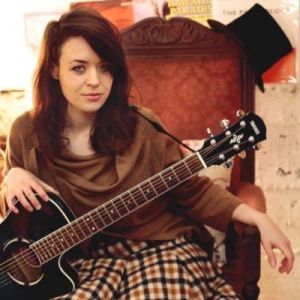 Nutshed
You might recognise these guys from the Limerick Milk Market where they have a stall. They brought a little taste of heaven to Stradbally at the weekend which was needed when the night before became too much for us all! These guys have nailed the clean treats market with everything from raw balls to clean cheesecake. Follow them on Snapchat @ "Nutshed". Warning: You may drool on your phone!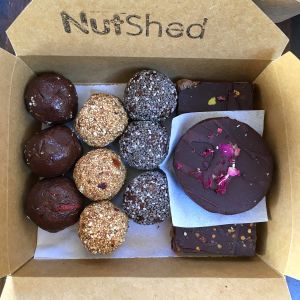 Fox Jaw
These guys are a rockband from Limerick. I cant believe I'd never seen them before EP- they've been around for 10 years!!! My bad! Loads of people were recommending them to me before I headed to EP. And I can see why! They rocked the Jerry Fish tent on Saturday. I'll definitely be heading to another gig of theirs soon.  You can follow them on Facebook here.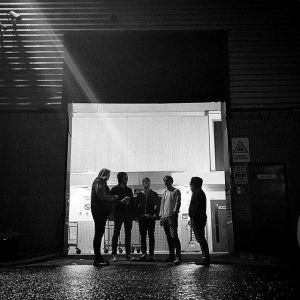 So that's it! Apologies if I missed anyone from the list. I know this blog is a little off topic but I think its so important to support local acts and businesses wherever possible. Everyone has to start somewhere and its so inspiring to see regular people from our little city following their dreams.
Until next time,
#ShareTheDigitalLove